As an Amazon Associate, I earn from qualifying purchases.
When discussing the best outdoor, survival, and all-around best knife, Mora knives are bound to come up at some point. But when you look at them, there doesn't seem to be anything super special about Mora knives compared to similar blades. So why are Mora knives so popular and considered such great knives?
Mora knives are great knives because they are well-built while also staying affordable in price. Mora knives are very durable, made of high-quality materials, and are portable. These qualities make Mora knives a popular option for people who want a good quality knife without the hefty price tag.
While I have gone over a few of the significant reasons why Mora knives are considered such great knives, there are still MANY left to discuss. 
I have owned quite a few Mora knives, and I have been nothing but impressed with them so far. But I can't help but wonder, what exactly makes them so enjoyable to use? Let's take a more in-depth look at 13 reasons why Mora knives are so great and popular!
Why Are Mora Knives So Popular and Great?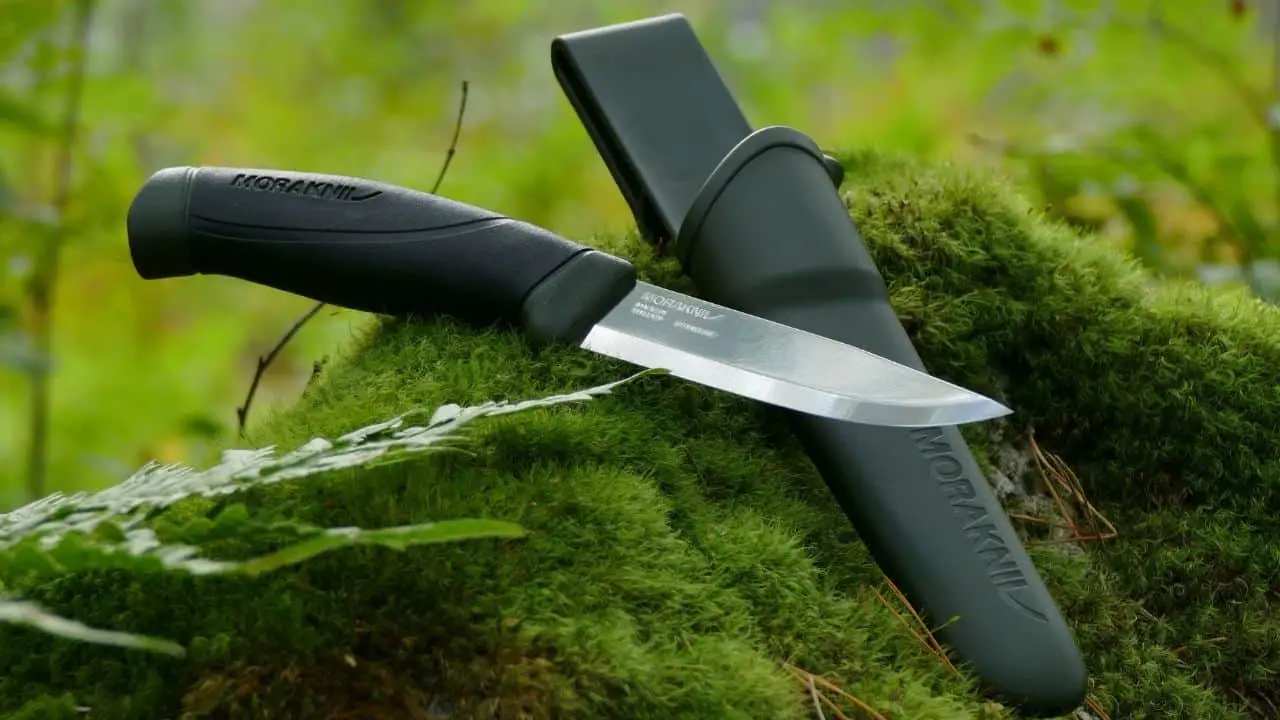 Mora knives have been around for quite some time and have a pretty rich history. The knives originated from Mora, Sweden, where they followed traditional Scandinavian design. Since their rise in popularity, knives following this design have just become known as "Mora knives"(or Moraknivs as they are called in Sweden).
Initially, two companies primarily produced Mora knives in Sweden: KJ Eriksson and Frost of Mora. In 1988, the two companies merged into one and became known as Mora of Sweden.
Many knife manufacturers have made Mora style knives and knives using design elements from Mora throughout the years. However, the only authentic Mora knives are made exclusively by Mora of Sweden.
As you can see, Mora knives have become increasingly popular throughout the years, so let's take a look at some of the major reasons why they are so beloved!
1. Mora Knives are Very Affordable
Especially in the modern knife market, one of the most appealing things about Mora knives is their affordability.
Many of the survival knives you'll see today cost hundreds of dollars, but Mora knives are usually MUCH cheaper than that. To check the current price of the Morakniv Companion, click here.
While you can definitely find knives that sell for similar prices to the Mora, you'd be hard-pressed to find one that is as high quality and affordable as a Mora knife. It's this affordability that largely makes Mora knives so appealing and popular.
It's nearly impossible to find such a high-quality knife at the price point that Mora knives are sold at. While it depends on where you get your knife, Mora knives can cost as little as $10, while their higher-end knives can go up to $100+. And surprisingly, the cheapest Mora knife you can purchase is nearly as good as knives from other brands that would cost ten times the price.
2. Mora Knives are Extremely Lightweight
Mora knives are known to be very lightweight and easy to carry. Take a look at how much some of the most common Morakniv models weigh:
As you can see, there is quite a bit of variance between how much each model weighs, but none of them are extremely heavy. Based on the five knife models looked at, a Mora knife weighs on average 5.568 ounces. That's not too shabby for a survival tool capable of completing some pretty intense tasks!
One of the most popular Mora knives out there, the Morakniv Companion, weighs about as much as 20 U.S. quarters. Overall, Mora knives are incredibly lightweight and definitely won't hold you back on any adventures due to their bulkiness or weight.
3. Mora Knives Are Nearly Indestructible If Used Properly
With exceptions for mistreatment and abuse of your Mora knife, they are nearly indestructible. Quite literally, I have never owned or seen a single Mora knife that has failed or broken in any way due to regular and proper use.
If you use your knife for tasks that knives aren't supposed to complete, the chances of it breaking go up significantly. When a knife breaks due to neglect, misuse, or abuse, it is solely on the user and not the company's fault or the knife itself.
I have used my Mora knife for innumerable camping trips, survival classes, and days out in the woods, and not once has it broken. 
When they see that many Mora knives are partial tang, some people assume they break easily and will not hold up under intense use. But oh boy, let me tell you, they will hold up! Make sure to clean and maintain your knife correctly (which we'll talk more about in a minute), don't abuse it or use it for improper things, and you'll likely have a reliable tool for many years to come.
4. Mora Knife Blades Can Be Easily and Quickly Sharpened
Mora knives are known for their simplistic yet reliable and robust blades that are super quick and easy to keep sharp.
Even with minimal knife sharpening experience, keeping your Mora knife razor-sharp shouldn't cause too much of a hassle. Most Mora knives have a simplistic Scandi grind with no micro bevel or anything fancy, making them super quick and easy to sharpen.
As long as you have a reliable stone (or another type of knife sharpener) and you spend some time to learn your Mora's blade, you should be good to go. Whether you are just learning to sharpen a knife or you've been around the block a few times, sharpening a Mora knife is quite an enjoyable process that is straightforward and quick.  
5. Mora Knives Hold a Sharp Edge for a Long Time
In addition to being able to sharpen your Mora knife very quickly and easily, they are also very effective at holding a sharp edge for a long time. Even if you are using your Mora daily for pretty intensive tasks, you shouldn't have to sharpen it very often; it's that good.
Depending on whether you have a Mora knife with a carbon steel blade or a stainless steel one, you may have to sharpen it more or less often. Carbon steel blades tend to hold their edge for a little longer, while stainless steel brings the added benefit of rust resistance, but you may need to sharpen it more often.
Even with a stainless steel blade, I have gone MANY weeks without even touching up my blade, and it has stayed very sharp. Even with continual daily use, my stainless steel Mora has held up and stays sharp for an incredible amount of time.
You'll also be quite happy to know that, at least in my experience, there has been know edge bending, folding, or damage in any way throughout my time owning a Mora knife. In addition to not needing to be sharpened often, Mora knives are not prone to blade edge damage.
6. Mora Knives Are Easily Cleaned and Maintained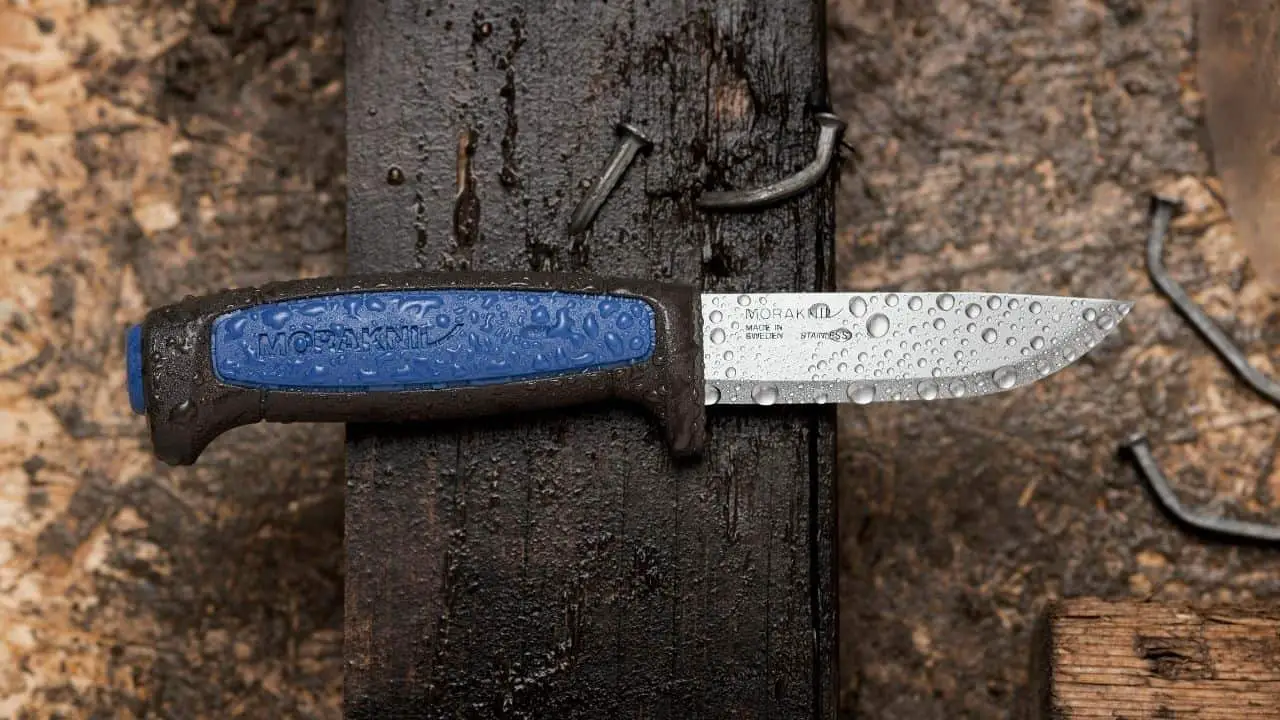 There are many types of Mora knives made out of various materials, but they are all relatively easy to clean. A distinguishing feature of Mora knives is their simplistic and practical designs, which makes them SUPER easy to maintain and keep clean.
Obviously, some materials and Mora knives are easier to clean than others, but no matter what Mora knife you have, they are usually quite straightforward to maintain.
Cleaning your knife thoroughly every month, ensuring it isn't housed in a moist environment, and sharpening it every once in a while, is plenty of upkeep to keep most Mora knives in tip-top condition. As long as you put a little bit of effort into maintaining your knife every week and you don't leave it laying out in the elements, keeping your Mora functioning at its highest capacity is very quick and easy.
7. You Can Use Mora Knives to Perform a Variety of Different Tasks
Knives, inherently, are very versatile and useful tools. Some knife designs restrict versatility and instead are hyper-specialized for performing a single task. Usually, versatile knives are not very good at any single job, while specialized knives are only good at one task.
Mora knives strike a near-perfect balance between the two types of knives. With their simplistic and practical design, Mora knives are capable of performing a wide variety of tasks while also being quite good at each individual job. 
This sort of versatility is what makes Mora knives beloved by so many people. Whether you're going out into the woods to practice your bushcraft skills, doing odd jobs around the house, or going out fishing, there is no doubt that your Mora knife is more than capable. 
If you like the outdoors and spend a lot of time in the woods, I highly recommend reading my article on ways you can use your survival knife while out in the wilderness. It's quite cool to see all the different ways survival knives can be used, and you might just read something new that you could implement the next time you're out in the field!
8. Mora Knives are Excellent at Precise and Detailed Work
Some of the most important tasks you'll ever complete with a knife require very precise and detailed work. It can sometimes be challenging to find a blade capable of such fine work, but Mora knives seem not to have a problem with exact tasks in the slightest.
The drop point blade on a Mora is very maneuverable, which allows you to complete delicate and precise tasks whenever you find the need.
Many outdoor knives end up being very clunky and difficult to manage, but Mora knives are right in the sweet spot where they can take on intensive tasks, as well as very delicate ones.
At this point, it's nearly impossible for me to imagine a realistic task that my Mora knife wouldn't be able to take on. Overall, Mora knives are super versatile and capable knives that can do very delicate work if the need arises.
9. Mora Knives are Extremely Portable and Easy to Carry
Mora knives are very compact and lightweight knives that are incredibly portable and easy to carry with you wherever you need to go. Many Mora knives, such as the popular Morakniv Companion, come with a handy plastic sheath to carry around your knife in.
Admittedly, the Morakniv sheaths aren't the most fantastic looking and highest quality in the world, but they are SUPER durable and serve their purpose well.
Wherever you are going on a trip, out into the woods, or are just working around your home, it is very simple to just throw your Mora into your pocket or backpack. Mora knives are so lightweight and slim that it barely takes up any room and you usually won't even notice the extra weight.
10. Mora Knives Are Great No Matter Your Experience Level
Whether you are entirely new to knives or you've been doing this for years, Mora knives are a great option either way. Many people see Mora knives as "beginner" knives because of their low price point and simple design, but that is far from the truth.
Mora knives are very basic knives, but that is what makes them genuinely great in many situations.
Mora knives are simple enough for a beginner to learn with, but they are also durable and streamlined enough for experienced knife users to appreciate and use them. Not many other knives can pull this off, but Mora knives are actually great, no matter your experience or skill level.
It's this strange gray area where Mora knives are priced low enough for beginners to consider while also offering the quality and durability you would expect from a MUCH higher priced blade.
11. There are Many Different Mora Knife Models for All Your Needs
Another great thing that Mora knives have going for them is their diversity and the sheer number of different models available. The large number of different Mora knife models out there can be paralyzing to many first-time knife owners, but it's not as difficult to understand once you take a closer look.
For simplicity's sake, you can split up all Mora knives into three basic categories: basic, advanced, and specialized.
Basic Mora Knives: this group is excellent for people who just want an all-around good knife, but don't have any specific needs or preferences. They are great for many beginners to start with, but they can also be excellent daily drivers for more experienced people as well.
Here are some great examples of Basic Mora knives:
Advanced Mora Knives: this group of Mora knives are perfect for people who need a much more durable and knife and plan to use it for intense and taxing jobs. Nearly all Mora knives are incredibly durable, but if you need a more robust blade for some reason, Advanced Mora knives are your best bet.
Here are some perfect examples of Advanced Mora knives:
Specialized Mora Knives: most people will not require a Specialised Mora knife, but they do have their uses in specific situations. Specialized Mora knives include all Moras meant to be used in particular instances and have certain qualities to adapt them for tasks.
Here are some examples of Specialized Mora knives:
12. If You Lose Your Mora Knife, It is Simple and Cheap to Replace
With their budget-friendly prices, Mora knives have a unique advantage over the competition. If you happen to lose or break (which is very unlikely considering their extreme durability) your Mora knife, it isn't too much of a hassle to simply replace.
The fact that it isn't difficult to replace your Mora knife allows you to use your knife more freely and to its full potential without being afraid you'll break or damage it. More expensive knives tend to hold you back from using your knife because you're worried you'll lose or damage it, and it'll cost an arm and a leg to replace.
Mora knives also make surprisingly great gifts! It's nice to be able to get someone a genuinely good blade without dishing out hundreds of dollars.
13. Mora Knives are the Perfect All-Around Knife for Nearly Any Task
Overall, Mora knives stand out as some of the best budget-friendly knives while also being durable and up to the standards of knives that cost many multiples more.
It doesn't hurt either that the Morakniv company, who made the original Mora knife and now makes the vast majority of Mora knives on the market, is an all-around great company. I even listed them as one of the most trusted outdoor knife brands, which you can check out here.
Mora knives are just an all-around great knife for nearly anyone. They are durable, practical, lightweight, and everything else you'd want in a knife. So far, I have not come across a knife-friendly task that my Mora hasn't been able to handle, and it doesn't seem like ill be finding one any time soon!
If you're interested, here are some of the best and most popular Mora knives out there: