As an Amazon Associate, I earn from qualifying purchases.
Two big names in the knife industry, Benchmade and Microtech, are very well respected and have an excellent reputation as solid blade producers. But if given a choice between the two knife brands, which is better?
The quality, durability, and materials are nearly equal on Benchmade and Microtech knives. However, Benchmade's outstanding craftsmanship, design, and warranty win over Microtech in almost every knife category except out-the-front knives. Microtech OTF knives are some of the best in the world.
When comparing two knife companies head to head, there are so many angles that you can take to compare the two. Let's take a deeper dive into some basic knife characteristics and how knives from Benchmade and Microsoft compare in each category.
Comparing Benchmade Knives and Microtech Knives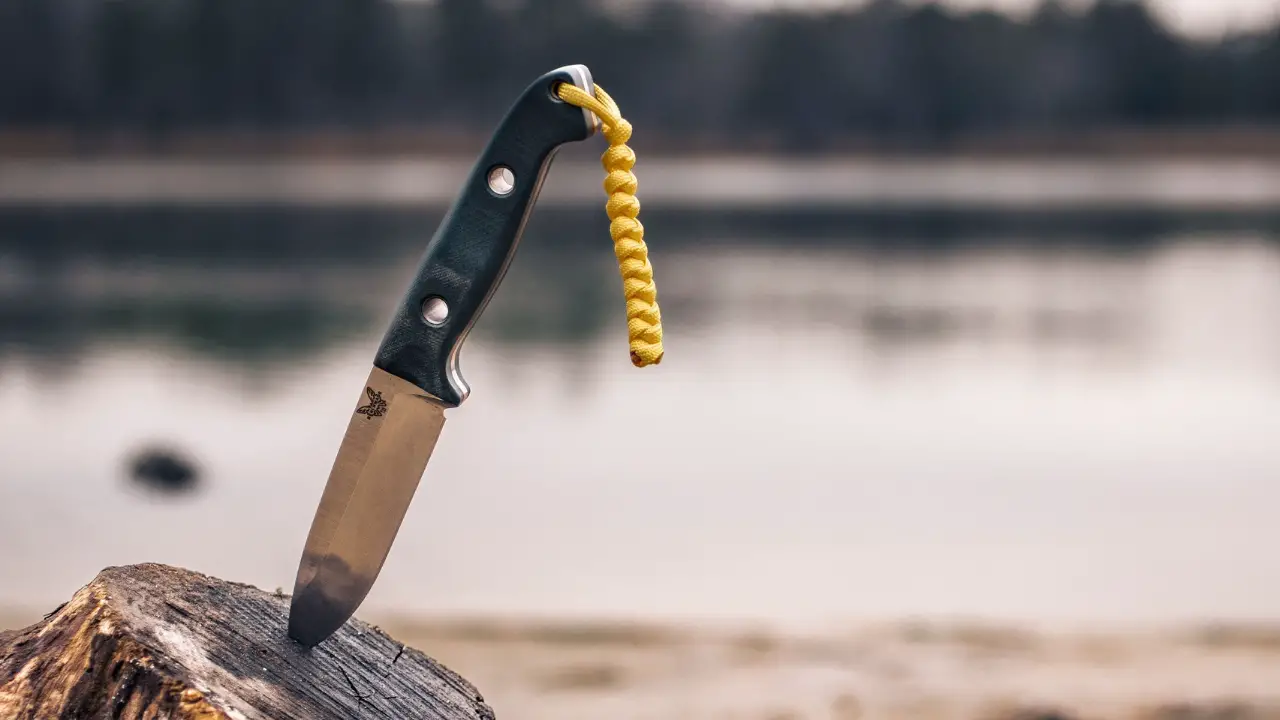 Both Benchmade and Microtech are significant players in the knife industry today, but they each have very humble roots dating back decades.
Microtech started in 1993 out of Anthony Marfione and Susan Marfione's apartment. The two founders began renting a small facility in Florida to make their knives, and the company quickly expanded from there. Today Microtech has headquarters in North Carolina and Pennsylvania and employs over 150 people.
Benchmade, known as Bali-Song then, was founded in 1979 by Les De Asis. In 1987, the company changed its name to Benchmade and expanded its lineup of blades. By 1996, Benchmade moved its headquarters to Oregon City and substantially grew to the well-known and respected brand we know today.
Now that you have some backstory for Benchmade and Microtech let's compare the two knife companies in a series of categories crucial to making a good knife.
Price
Both Benchmade and Microtech knives come in at various price points, but both brands tend to be on the more expensive side of things. By no means is either company a "budget" brand; they are on the more luxurious end of factory-made knives by a mile.
Below are some tables representing the estimated spread of prices for both knife companies. Take the actual numbers with a grain of salt because knife models and series come and go for each company, but it should give you a general idea of the average price point for each brand.
| | | |
| --- | --- | --- |
| Estimated Price | Estimated Benchmade Knives Per Price Bracket | Estimated Percentage of Total Selection |
| $0-$100 | 2 | 2.6% |
| $101-$200 | 31 | 40.3% |
| $201-$300 | 32 | 41.6% |
| $301-$400 | 5 | 6.5% |
| $401-$500 | 4 | 5.2% |
| $500+ | 3 | 3.9% |
| | | |
| --- | --- | --- |
| Estimated Price | Estimated Microtech Knives Per Price Bracket | Estimated Percentage of Total Selection |
| $0-$100 | 0 | 0.0% |
| $101-$200 | 1 | 4.0% |
| $201-$300 | 13 | 52.0% |
| $301-$400 | 6 | 24.0% |
| $401-$500 | 3 | 12.0% |
| $500+ | 2 | 8.0% |
As you can see, neither Benchmade nor Microtech offer any real selection below the $100 price point. Roughly 82% of Benchmade knives fall between $101 and $300, while roughly 76% of Microtech knives fall between $201 and $400. 
A good percentage of knives from both companies fall between $201 and $300 (41.6% for Benchmade and 52% for Microtech, to be exact). However, Microtech also has a good portion of their knives above that $300 mark, while Benchmade is the opposite.
Design
In terms of design, both Benchmade and Microtech are at the top of the game in the knife industry. They each obviously put a great emphasis on producing knives with excellent designs that are both practical to use and look amazing at the same time.
Benchmade and Microtech have some signature characteristics when it comes to their individual knife designs. One is not necessarily better than the other; they're just different, and the "better" one largely depends on your personal preferences and needs.
Microtech knives tend to look very tactical but in a tasteful and sleek way. There's a world of difference between the appearance of the gas station tactical knives you can buy for cheap, and the well-made knives Microtech produces. 
The vast majority of Microtech knives have a black and silver color profile, while a few models incorporate light tans and other earthy tones. Microtech knife designs tend to be very sleek, have visible screws, and plenty of ridges for additional grip. It's all very practical and intentional while also elegant and clean looking.
Benchmade produces quite a wider variety of knife designs than Microtech and thus has a much wider selection of designs. Regardless, some common characteristics seen throughout many Benchmade knives include sleek ergonomics, a minimal profile, and a somewhat modern look. Benchmade is also generally much more open to experimenting with more forward-thinking designs and colors.
As you can see, both Benchmade and Microtech have quite distinct knife design styles. Both companies are extremely competent when it comes to design, so it really comes down to personal preference and your particular needs to decide between the two.
Materials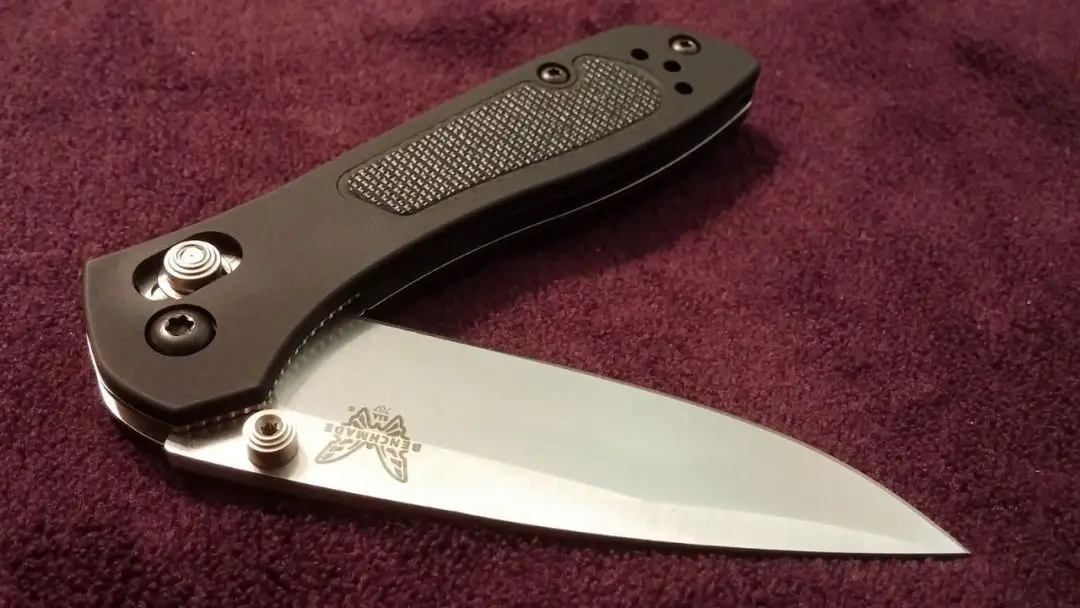 Being higher-end knife manufacturers, both Benchmade and Microtech use some great materials to create their products. Knife blade steel and handle material significantly affect how well a knife functions and holds up over time. You should expect some of the best in the business at the price points that Benchmade and Microtech knives go for, and both companies do not disappoint. 
While Microtech uses a variety of blade steels for their product lines, most Microtech knives have an M390 steel blade. M390 is exceptionally durable, corrosion resistant, and easily holds an extremely sharp edge. Using such a good "super steel" contributes to Microtech's often steep prices, but in terms of quality, it's hard to do better than M390.
On the knife handle side of things, Microtech tends to use the tried and true G-10 material on most of their knives, with aluminum and other handle materials sprinkled among their lineup. G-10 isn't anything revolutionary, but its high durability, good grip, and sleek look make it a good knife handle choice.
Moving on to the materials Benchmade uses to create its knives, the list is rather long. The company offers knives in over fourteen different blade materials. However, there is a rather large concentration of Benchmade knives with CPM-CruWear, CPM-S30V, and CPM-S90V blades. All of these are excellent mid to high-end steels that can handle most situations with ease and are appropriate for the price point.
Much like Microtech, Benchmade produces many of its knives using G-10 or 6061-T6 aluminum handles. Though there are quite a few Benchmade knives with alternate handle materials such as their well-known Grivory material, wood, and carbon fiber.
Craftsmanship
A knife can have the best materials and design, all at a reasonable price, but if it's not well put together, all of that's for nothing. Craftsmanship and production quality are extremely important, so it's essential to purchase knives from companies with good reputations in these areas.
Out of all the knife brands on the planet, Microtech surely ranks among the top ones in terms of the quality and reliability of their products. Defects, flaws, and major blade play on Microtech knives are extremely rare. Overall, Microtech knives are extremely well put together and expertly crafted blades that are sure to last a long time, even with considerable use.
Considering the price, it should come as no surprise, but you can really notice the amount of thought and care put into the production of every Microtech knife. While you're paying a hefty price, Microtech knives definitely feel "premium." 
Benchmade is right up there with other well-renowned production knife companies, though when compared to Microtech, it often falls a little short in terms of craftsmanship. Don't get me wrong, Benchmade knives are extremely well made and hold up for a long time with continued use.
Personally, all of my Benchmade knives have been exceptionally made without any major noticeable flaws. However, reports of errors in Benchmade's quality control are not uncommon, especially in more recent years on their higher production knives, such as the Griptilion. The craftsmanship and build quality of Benchmade knives are exceptional, but the company's quality control reputation is an important consideration when comparing the company.
Warranty
When you're splurging on an expensive knife such as one from Benchmade or Microtech, you can expect a pretty inclusive warranty to ensure you enjoy your knife for as long as possible. Both of the aforementioned companies offer warranties on their knives, so let's take a look at what each cover.
Microtech offers a Limited Lifetime Warranty on all of their knives. Put simply, if you experience any problems with your Microtech knife due to defects in craftsmanship or material, you can send it in, and they'll fix or replace it. Microtech also offers a cleaning and sharpening service for their knives for an additional $20.
Benchmade offers a very similar warranty that says they will repair or replace any genuine Benchmade knife with defects in material or craftsmanship. Regular wear and tear or modifications void the warranty. Benchmade's customer service team has an excellent reputation and is typically very willing to work with you on a case-by-case basis to ensure you're completely satisfied with your Benchmade knife. 
Additionally, Benchmade offers their free LifeSharp service for all of their knives. All you have to do is send it in, and they'll clean and sharpen your knife to bring it as close as possible back to company standards. Check out this article to see whether Benchmade's LifeSharp service is truly worth it

.
Does Benchmade or Microtech Make Better OTF Knives?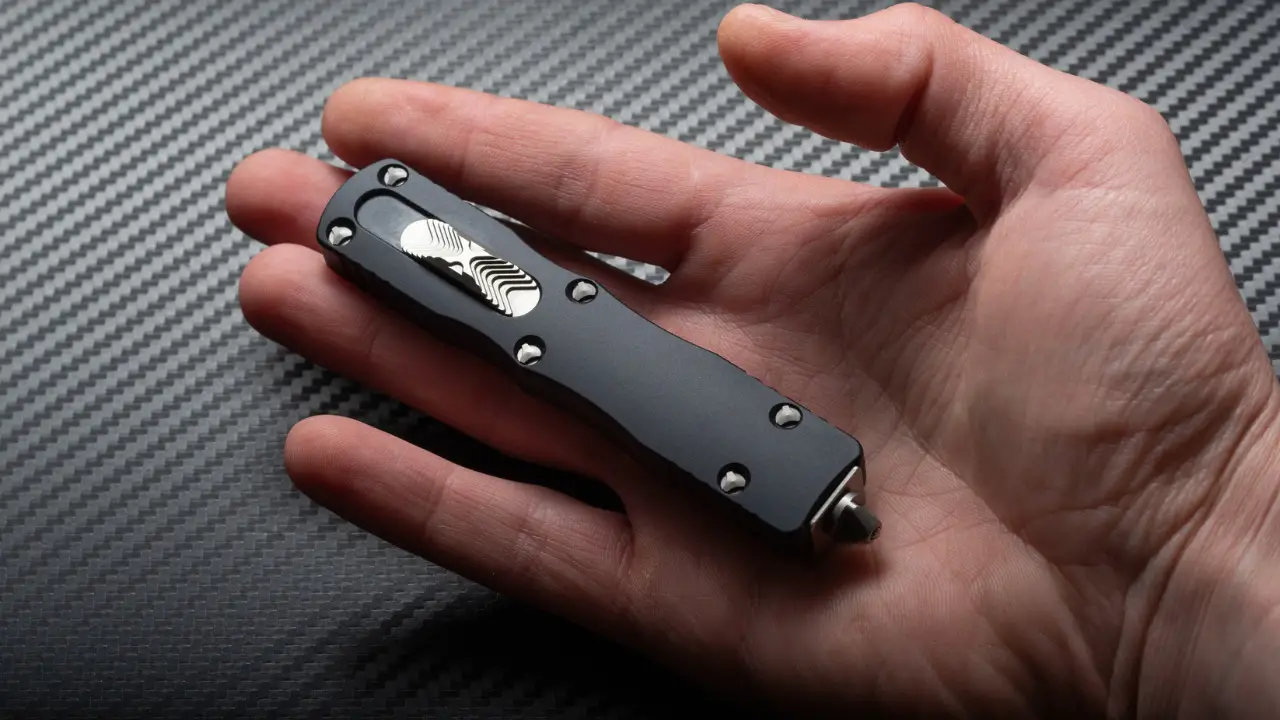 Both Benchmade and Microtech produce very well-regarded out-the-front (OTF) knives, but which one should you get between the two brands?
OTF Knife Selection
When it comes to OTF knife selection, Microtech edges out Benchmade by having a slightly more expansive catalog of options. Microtech offers an array of OTF knives ranging from their tiny Exocet to their larger Tradoon. Benchmade, on the other hand, offers a much slimmer OTF knife selection, but the few models that they do offer are extremely popular.
OTF Knife Design
Design is a difficult criterion to judge because it is largely subjective. Personally, I prefer the sleek tactical look of Microtech's OTF knives, but there are pros and cons to each brand, and it largely depends on what you're looking for in a knife.
OTF Knife Action
How an OTF deploys and retracts its blade is a huge consideration when choosing a knife. You want a blade that deploys with ease but without too much blade play. For the premium price, many people report more blade play than expected with many Benchmade OTF models. Microtech OTF knives are notoriously stiff, but once you wear them in, they open smoothly and typically with much less blade play.
Should You Buy a Benchmade or Microtech Knife?
In the grand scheme of things and when compared to other knife companies, both Benchmade and Microtech are solid knife brand choices. It's really difficult to go wrong with either one. Which particular brand you should go with out of the two depends largely on your personal preferences and needs in a blade.
When it comes to knives, you typically get what you pay for. Both Benchmade and Micortech are on the more expensive side of things, but they deliver blades miles above other knife brands in terms of design, quality, and usability.
If you're looking for a well-made OTF knife or are just drawn to the very tactical look and quality of Microtech, it's an excellent option. If you want a pocket knife that's more apt for everyday carry or use in wilderness situations, Benchmade makes a variety of adequate models.
Personally, I tend to choose Benchmade over Microtech in most situations. Benchmade has an extensive lineup of pocket knives designed perfectly for everyday carry, and since that's my primary use, I usually go with them.
It's also important to mention that you can get similar quality knives to the brands mentioned above from other companies at lower prices. You're definitely paying a "butterfly tax" when you get a Benchmade knife, and the same goes for Microtech; you're paying for a quality knife, but you're also paying for the brand name. Just something to keep in mind when making your final decision.