As an Amazon Associate, I earn from qualifying purchases.
Benchmade knives are some of the most well-known and trusted knives on the planet, so when it comes time to sharpen your blade, you want to get it right. While sharpening a Benchmade knife isn't much different from any other blade, there are some additional details and options for you to consider.
Generally, Benchmade knife blades leave the factory with a 30-35 degree inclusive angle, equal to a 15-17.5 degree angle on each side. Sharpening your Benchmade knife at home is easy, but it is good to send it into Benchmade's LifeSharp service every once in a while to get a factory resharpening.
Let's dive right in and look at the exact angle you should sharpen your Benchmade knife blade, your sharpening options, and explore the intricacies of Benchmade's LifeSharp knife care service.
Everything You Need to Know About Benchmade LifeSharp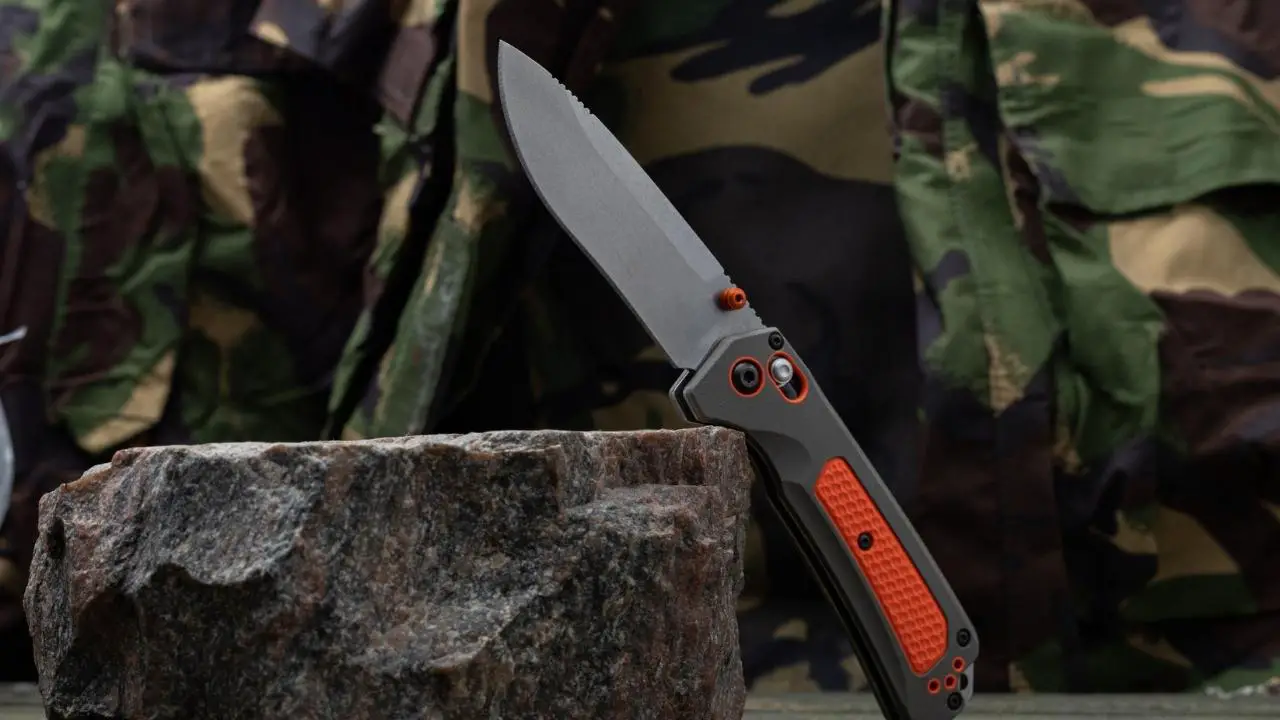 Benchmade LifeSharp is Benchmade's knife care service for their knives. It's completely free and very highly regarded in the knife community as a great way to get a factory edge back on your Benchmade knife and give it a sort of spa day.
How to Use Benchmade LifeSharp Service
Sending your Benchmade knife to their LifeSharp service is straightforward. Here are the three steps that you must take:
Create a Benchmade user login. You can do this directly on the Benchmade website quickly; you'll need it to fulfill the rest of the steps to send your knife to LifeSharp.
Fill out the appropriate forms for your knife. Login to your Benchmade user account and fill out this form. You'll need to print it out and have it ready to send in with your Benchmade knife.
Next, ship your knife and form to Benchmade's address (found on their website). Make sure to send it postage paid and insured because Benchmade is not responsible if your knife gets lost on its way there or back from their facilities.
And that's it! Once you send it off, Benchmade will do the rest and send your knife back to you once they've fixed it up and given it a well-deserved re-sharpening. The Benchmade LifeSharp turnaround time can vary, but it's typically 1 to 2 weeks before you get your knife back.
What Knives Qualify for Benchmade's LifeSharp Service?
After looking at what Benchmade offers with their LifeSharp service, you're probably wondering what types of knives you can send to them for a spa treatment. Unfortunately, Benchmade LifeSharp is available for genuine Benchmade knives only.
You cannot send other brand knives or counterfeit Benchmade knives to LifeSharp for re-sharpening. Only real, authentic Benchmade knives.
Additionally, Benchmade LifeSharp cannot re-sharpen any serrated portions of knife blades. So if you've got a serrated Benchmade knife, LifeSharp is probably not the best option for you. 
For the Benchmade knives that do qualify for LifeSharp, though, it is entirely free for the entire lifespan of the knife. There are no hidden fees or anything (except you must pay for the shipping, of course).
What Does Benchmade's LifeSharp Service Include?
Benchmade LifeSharp is a great re-sharpening service for Benchmade knives, but what exactly do they do to your blade when you send it in? Here is what you can expect from Benchmade LifeSharp:
Clean your entire knife from top to bottom
Oil and make sure it opens smoothly
Make any necessary blade or clip adjustments
Re-sharpen your knife blade to a factory edge
Whether your knife is a little worn out from everyday use or needs a serious clean, LifeSharp is the perfect service for your needs. You send your Benchmade knife in, and it will receive a thorough cleaning, oiling, adjustment, and sharpening.
Is Using Benchmade's LifeSharp Service Worth It?
For most people, occasionally sending their Benchmade knife to LifeSharp is well worth the hassle of packaging it up and getting it in the mail. The service is free, and Benchmade is a reputable company, so there's very little downside to sending your knife to LifeSharp.
Benchmade LifeSharp is a great way to get your Benchmade knife in tip-top shape every once in a while, but it's important to do some basic care at home. It's important to have the know-how and tools to sharpen, oil, and care for your knife yourself.
Overall, Benchmade LifeSharp is a great service for giving your knife a little "reset" back to a factory edge. It's not a substitute for basic at-home knife care, but it's great to send your knife in every so often for a tune-up.
How Often Should You Sharpen Your Benchmade Knife?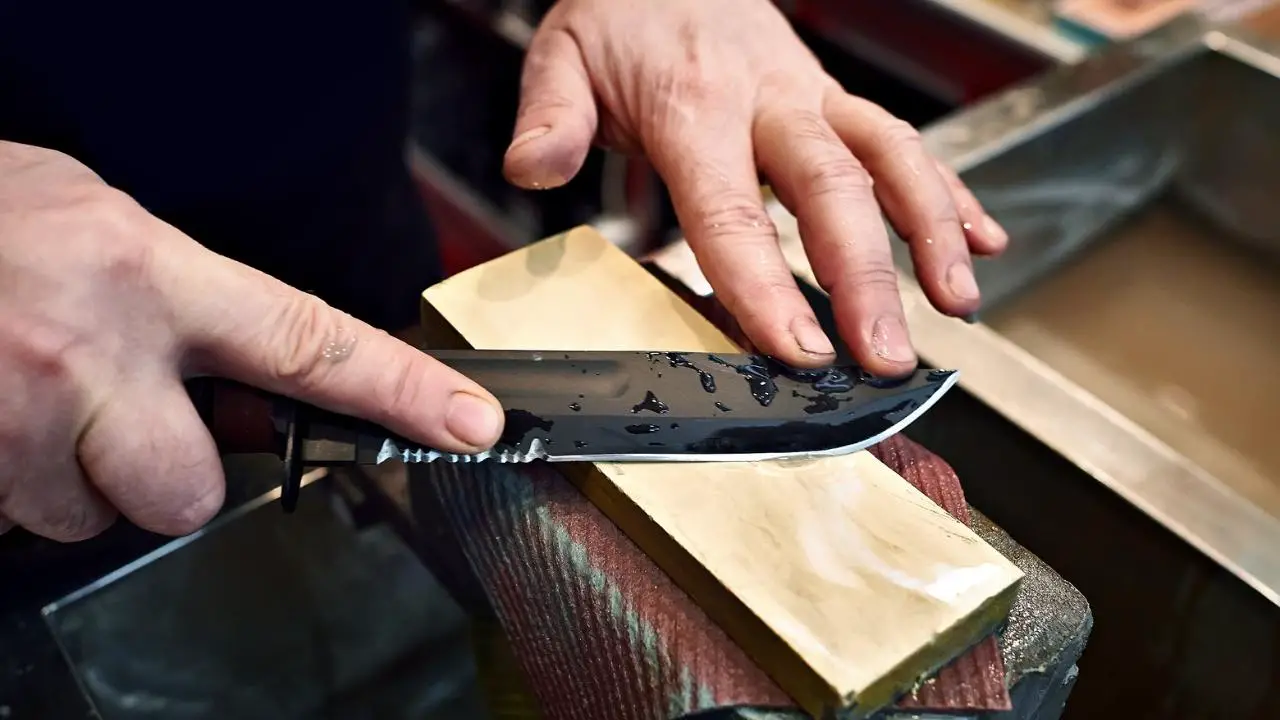 If you're new to knives or just want to take the best care of your Benchmade, you're probably wondering how often to sharpen your Benchmade knife.
As with most knives, it's best to sharpen your Benchmade knife whenever it feels dull or is not cutting as smoothly as you'd like. There's no set timetable for when you should sharpen your Benchmade, but 1 to 2 times per month is usually sufficient.
There's a fine line between sharpening your knife too much and not sharpening it enough. You want to keep a sharp edge on your blade to ensure your knife is safe and easy to use, but you also don't want to sharpen it too often and wear down the metal.
Additionally, if you usually sharpen your Benchmade knife at home, it's good to send it in to get professionally sharpened every once in a while. Typically you should have your Benchmade knife professionally sharpened every 1 to 1.5 years for best results.
What Angle Do You Sharpen a Benchmade Knife?
Every knife is different and what angle you should have on your blade is largely dependent on your specific needs and preferences. So let's break it down to figure out what angle you should sharpen your Benchmade knife.
| | | | |
| --- | --- | --- | --- |
| Inclusive Angle | Exclusive Angle | Knife Examples | Notes |
| 30 | 15 | Skinning and cooking knives | Thin edge suitable for delicate work |
| 35 | 17.5 | Everyday carry pocket knives | Perfect edge for most knife types |
| 40 | 20 | Carving and hunting knives | Durable and decent cutting ability |
| 50 | 25 | Survival and outdoor knives | Very resilient and durable edge |
First, let's consider the angle that Benchmade knives have when they leave the factory. Benchmade's official FAQ page at the time of writing states that Benchmade knives leave the factory with a 30-35 degree inclusive angle (15-17.5 degrees exclusive on each side).
Just so everyone is on the same page, inclusive blade angles are the sum of both sides' angles, while exclusive blade angles refer to a single side of the blade. So a knife blade sharpened to 30 degrees inclusive would have 15-degree angles on either side of the blade.
While the factory edge on a Benchmade knife is 30-35 degrees, that doesn't mean you must continue to sharpen your knife at that angle. Many people end up sharpening their knives at a lower or higher degree angle to suit their needs better.
You rarely want to sharpen your Benchmade knife below 30 degrees inclusive because it will get too thin and brittle, but many people like to go with a higher degree angle. Many people prefer a 40 or 50-degree inclusive angle on their Benchmade knife blade (20 and 25-degree exclusive angles, respectively).
A 40 or 50-degree inclusive angle may seem too wide, but Benchmade blade design and thickness tends to favor higher-degree sharpening angles.
Sharpening a Benchmade Knife That Has a SelectEdge Blade
Benchmade SelectEdge is a new blade sharpening method to better ensure edge retention and strength over time. It is still relatively new and only available on Benchmade's premium HUNT line of knives, but other knife lines will likely adopt it.
Knives with Benchmade SelectEdge have a factory blade angle of 28 degrees inclusive (14 degrees exclusive on each side of the blade).
While SelectEdge is a new sharpening method that is supposed to be better than Benchmade's traditional sharpening procedure, you can still sharpen SelectEdge blades at home. Sharpen your Benchmade SelectEdge knife on a good whetstone or your preference of sharpener.
Benchmade Knife Sharpening Options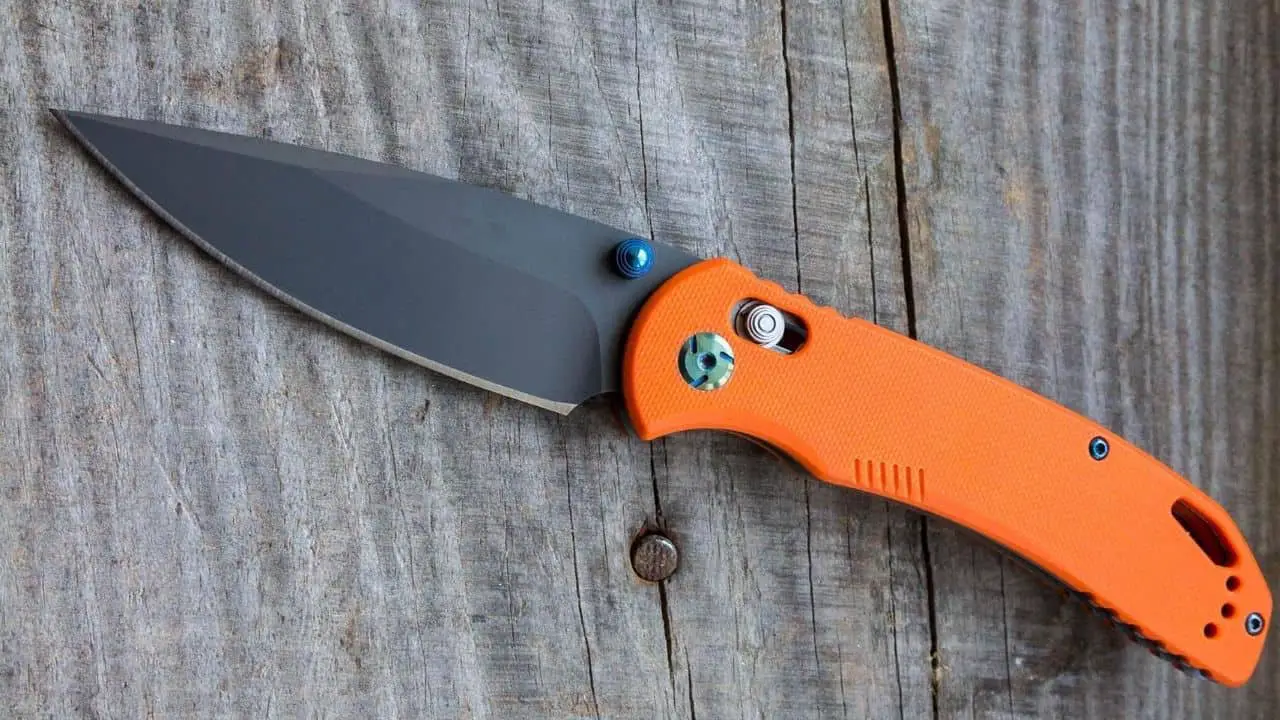 Like any knife blade, there's no single option when it comes to sharpening Benchmade knives. In a broad sense, you have two options when it comes to getting your Benchmade knife sharp and ready to use: do it yourself or hire it out. 
Let's explore your options in more depth so you can come to the right decision for your particular situation.
1. Sharpening Your Benchmade Knife Yourself
Ideally, you should sharpen your own Benchmade knife. Not only is it less of a hassle and typically cheaper, but sharpening your knife yourself is an excellent skill to have and allows you to make your blade precisely to your liking.
Even if you get your Benchmade professionally sharpened every few months, it's good to sharpen your blade at home more frequently. 
Sharpening your Benchmade knife yourself allows you to give it the care it deserves and try out different angles. While the factory Benchmade edge is excellent, you might want to try out a lower or higher degree edge depending on how you typically use your knife.
You can sharpen a Benchmade knife just like you would any other blade. Whetstones or other sharpening stones are good, but other knife sharpening methods can get the job done as well.
If you're inexperienced in sharpening knives, it may take some time to get the hang of it but learning to sharpen knives well is worth the effort. Benchmade knives tend to be higher-end, so practice on a less expensive knife until you've figured things out if necessary.
2. Using Benchmade's LifeSharp Service
Another excellent option for sharpening your Benchmade knife is Benchmade's very own LifeSharp knife care service. The service is easy to use and gives your blade an excellent factory edge.
You can send in any genuine Benchmade knife to LifeSharp for free for the entire lifetime of the knife. All you have to do is pay for postage.
Additionally, when you send your Benchmade knife to LifeSharp, they do other basic care and maintenance on your blade. In addition to giving your blade a new factory edge, they'll thoroughly clean it, oil it, and make any necessary adjustments to have your knife working like new again.
You can only send real Benchmade knives to LifeSharp, and it's completely free. Benchmade is a very reputable company, and besides the hassle and cost of shipping your knife, there's no reason you should use this service. For most people, it's well worth the effort to give your Benchmade knife a fresh start and sort of spa day every once in a while.
3. Using Another Knife Sharpening Service
If you cannot adequately take care of your Benchmade knife by yourself and don't want to use Benchmade's LifeSharp service for whatever reason, there are many other knife sharpening services available.
It's usually as easy as a quick internet search or asking your local sporting goods store for recommendations to find a good knife sharpener near you. Getting local recommendations for knife sharpeners is usually your best bet at getting a reputable and trustworthy service.
Many mail-in knife sharpening services are available if you cannot find a local shop to sharpen and care for your Benchmade knife.
Final Thoughts
Sharpening and maintaining your Benchmade knife is critical to keep it in good working order, so it's important not to let it slip your mind. It's much easier to maintain a knife than restore a blade that hasn't been cared for in a long time. If you cannot do it yourself, it's well worth the effort to find a good knife sharpening service.
And with so many great options right at your fingertips, there's no excuse not to care for your Benchmade knife.
In an ideal situation, you should regularly take care of your own Benchmade knife and send it to LifeSharp about twice per year. That way, your blade receives proper attention after every use while getting a bit of a "reset" every six months to factory standards.
Whatever maintenance and sharpening schedule you decide is best for your situation and knife, stick with it. If you want to get the best out of your Benchmade knife, keep it well taken care of and ready to go.