As an Amazon Associate, I earn from qualifying purchases.
An updated and sleeker version of the widely praised and awarded CRKT Fulcrum knife, the Fulcrum 2 brings the same charm and functionality that its predecessor brought just in a newer and cleaner design. Designed by experienced knifemaker Russ Kommer, the Fulcrum 2 is a great daily carry knife with an opening system that can double as a party trick if the occasion arises. 

When I first came across the Fulcrum 2, I was very skeptical. The design looked cool and the materials that it was made of were sturdy, but I was scared about the opening system. In my experience, products that try to be innovative or different often lack durability and break after a few uses. I ended up taking the leap of faith, and oh boy was I pleasantly surprised. 

I ADORE this knife. I carry it just about everywhere I go. Its sleek and minimalist design, combined with its quality and sturdiness, makes this knife just an amazing and reliable tool. The opening system that I was skeptical about ended up working amazingly well and being very durable.
Specs and Details
The Fulcrum 2 is very sturdy and is made out of premium materials. The main selling feature of this knife is the opening system. The patented and innovative "fulcrum" action opening mechanism is an instant conversation starter attached to a very useful tool. 

If your the type of person that likes smaller knives that are easier to carry around, there is a smaller version of the Fulcrum 2, called the Fulcrum 2 Compact. Its made of the same materials but is slightly smaller, about 6.625 inches total length. 
CRKT Fulcrum 2 (7435)
| | |
| --- | --- |
| Knife Style | Folding knife with locking liner |
| Blade Edge | Plain blade |
| Overall Length | 7.563 inches |
| Closed Length | 4.454 inches |
| Blade Length | 3.18 inches |
| Weight | 4.7 ounces |
| Steel | 8Cr13MoV steel |
| Blade Finish | Titanium Nitride |
| Handle Material | Glass-reinforced nylon with stainless steel |
For the full specs and practical details about this knife, check the Fulcrum 2 out on Amazon by clicking here

. If you want to learn more about my experience and thoughts about the Fulcrum 2, just keep reading.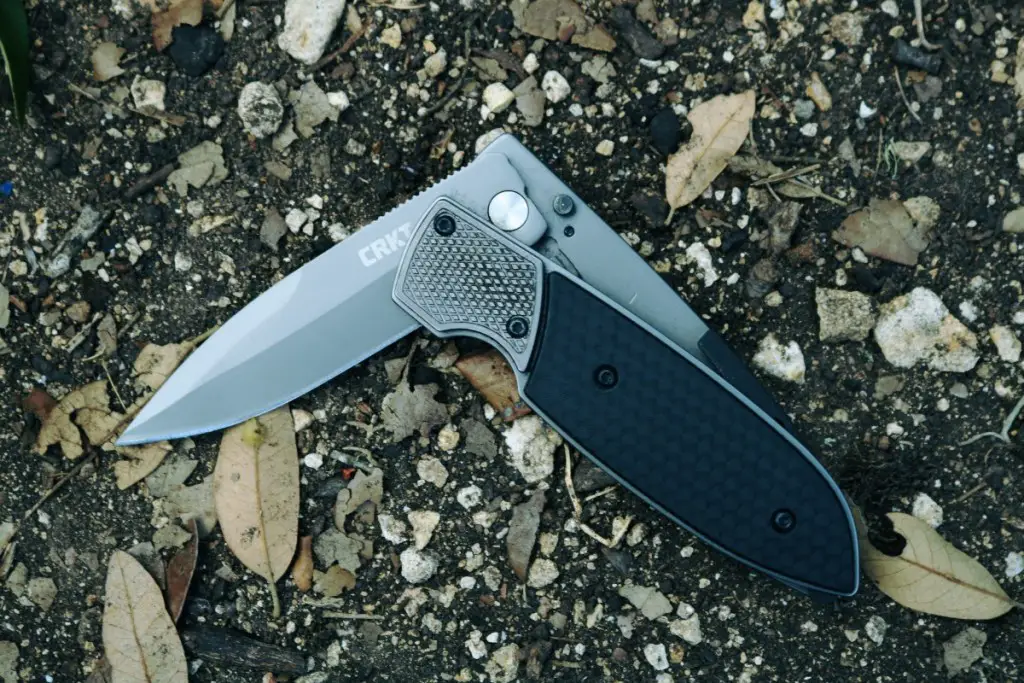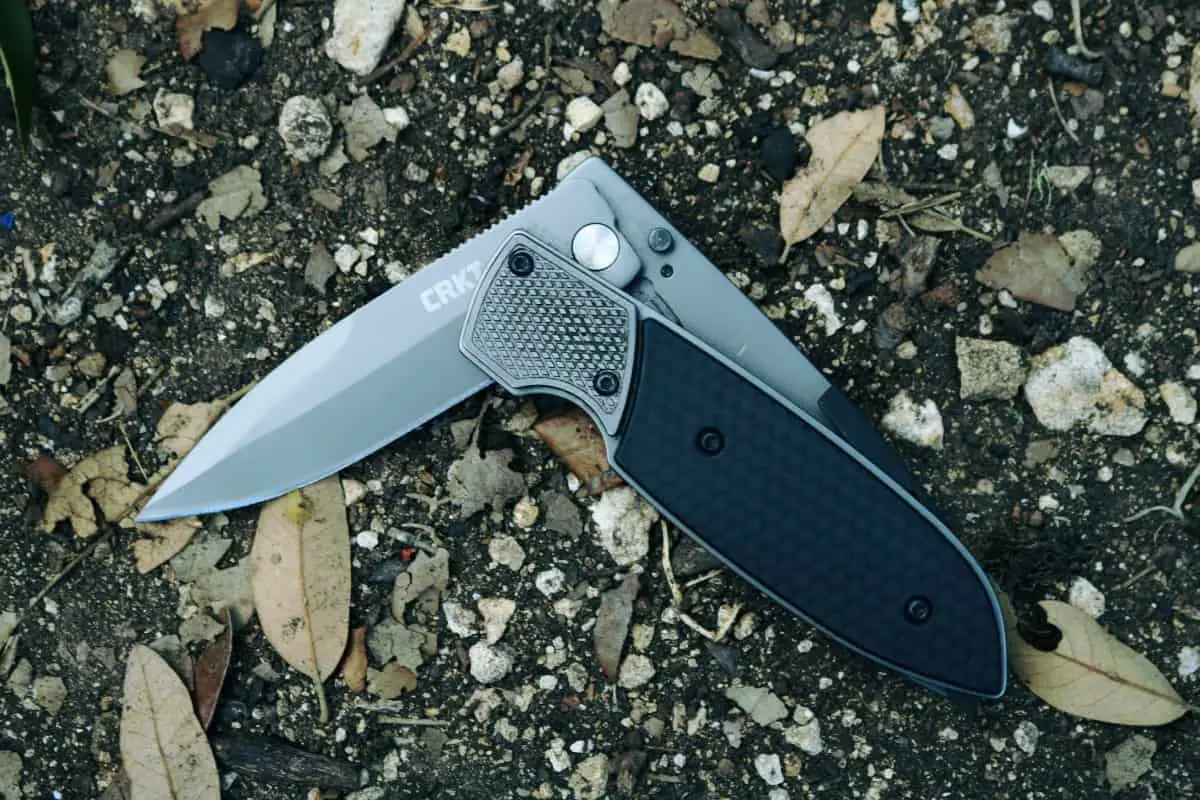 Personal Ratings and Thoughts
As I mentioned before, I love this knife. It is great for all of my needs and gets the job done quickly. I mainly use this knife for everyday carry and easy jobs around the house. I personally haven't had the chance to take this knife into extreme conditions, though it seems durable and sturdy enough to handle them. 

In these ratings, I'm going to try to be as unbiased as I can. However, keep in mind that I really do like this knife, so that might sway my ratings a little. But the only reason that I love this knife so much is that it really is a great and sturdy knife that I can rely on and trust. Basically, my love for the Fulcrum 2 is well deserved and should not be taken as a negative sign against my ratings of the knife. 

Ok, enough chit chat. 
Quality and Durability -10/10
This knife is made of very nice and sturdy materials. The handle is reinforced nylon that is basically impossible to scratch. To compare this handle material to other options on the market, check out this article about knife handle materials here.
The blade is very sturdy and strong as well. The blade edge comes very sharp out-of-the-box and stays that way. Even after using the knife for a little while, there are no signs of the blade finish scratching or any other major wear on the knife whatsoever.

All around, this knife is very high-quality. The Fulcrum 2 is a solid tool that does not feel cheap at all. A very well built and durable knife. 
Performance in the Field – 8/10
The Fulcrum 2 is a very easy to use knife that has a very comfortable handle. I'm always looking forward to flicking it open to do a task; the opening mechanism is just so satisfying to use! 

As I mentioned previously, the blade of this knife is spectacular. It has held its edge so well that I haven't needed to sharpen it since I purchased the knife. The handle on the Fulcrum 2 is very grippy and I have no trouble keeping a good grasp on the knife when I'm doing a difficult task.

My only small nitpick about the knife's performance is in regard to opening the knife while you're sweaty. To open the knife you have to apply quite a bit of pressure in a specific place on the knife. This becomes a problem when your hands are wet or sweaty because your finger tends to slip when you attempt to open the knife. This is a common problem with most knives that I've used, it is just amplified with this type of opening system. 

Overall, this is a really solid and easy to use knife that has never let me down. 
Ease of Use – 8/10
The opening system on this knife takes some time to learn and to beak in a little. Once you've opened it a couple of times, you get that hang of it. When you first pull the knife out of the box, it is almost impossible to open. It just takes a little while for the knife to loosen up and be easy to flip open and closed. 

To speed up the process of breaking it in, I used some WD-40 on the opening system. This seemed to work well and provides a very clean and smooth open. 

Other than it being a little tough to open in the beginning, there really isn't much else to say about the ease of usage of this knife. The handle is easy to grip, the blade is sharp and cuts smoothly, it's just a pleasure to use the Fulcrum 2 to complete any task. 
Value for the Money – 7/10
The materials used to make the Fulcrum 2 are very high-quality, which warrants the price. But at the end of the day, it's just a knife with a cool opening system. 

Your basically paying for the novelty of the opening mechanism. If you're looking for a purely functional knife, then there are less expensive knives out there that could complete the same tasks as the Fulcrum 2. It all comes down to what you prefer. 

For the quality and cool opening system, I think its a pretty fair price. But if the opening mechanism isn't a big deal to you, then the Fulcrum 2 probably shouldn't be your first choice of a knife.
What I Like about the Fulcrum 2
Basically, I like everything about the CRKT Fulcrum 2. I think you've heard me say that enough already. 

Everything about this knife checks all the boxes of a good, functional, quality knife. It has a great handle that fits in your hand well and is made of a durable material. The finish on the blade is great and the knife holds its edge very well. Last but not least, the opening mechanism is super cool.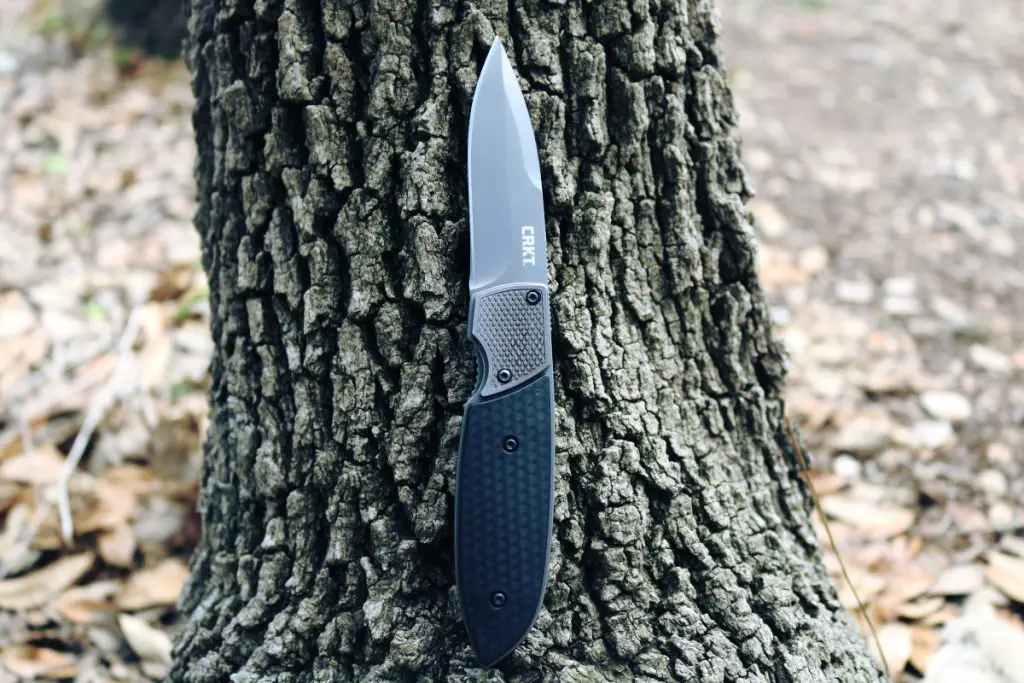 What I Dislike about the Fulcrum 2
For me, there are three main problems/drawbacks about the Fulcrum 2. The price, the stiffness of the opening system when the knife is new, and the possibility of dirt and debris clogging up the opening mechanism.

Let's tackle these one-by-one.

While I think the price is pretty fair for the materials that the knife is made of plus the cool opening system, it still is pretty expensive for a pocket knife. I know your probably thinking, "There are way more expensive knives out there." And you would be correct. You just have to sit back and think whether the Fulcrum 2 is worth the better part of a Franklin or not. For me, it was worth it because of the cool opening system, but there are definitely better pocketknives out there that would do the same tasks for a fraction of the cost. 

Next is the stiffness of the opening system when the knife is new. This isn't really a problem because a little bit of WD-40 and some opening and closing will solve it, but I did have a mini heart attack when I couldn't get my new knife open for the first time.

The last thing that I dislike about the Fulcrum 2 is how open the mechanics of the knife are. When you open or close the knife it exposes the mechanics of the opening system. It just scares me that I'll get a stick or some dirt lodged in there that will mess up the opening system of the knife. The opening system is pretty simple and basic, so I think I'm just being paranoid. 

All of these dislikes are pretty simple to fix or are small and nitpicky. I've said it once, I'll say it again: the CRKT Fulcrum 2 is an amazing and cool knife.
What is the Fulcrum 2 Good for?
The Fulcrum 2 is a very versatile and useful knife. While I would not recommend it to be your primary survival knife, it is a very good backup or everyday carry knife.

The reason for it not to be your primary survival knife is quite simple. It's a folding knife. While still strong and durable, folding knives are normally not suitable for survival. You just need something that is full tang so it is a bit stronger.

It also makes for a really handy and cool party trick. If you're ever bored with friends or need an icebreaker in a group, see who can figure out how to open the Fulcrum 2 first. Just be safe, make sure everyone leaves with all their fingers attached! (people leaving with their fingers on ice is a big no no.)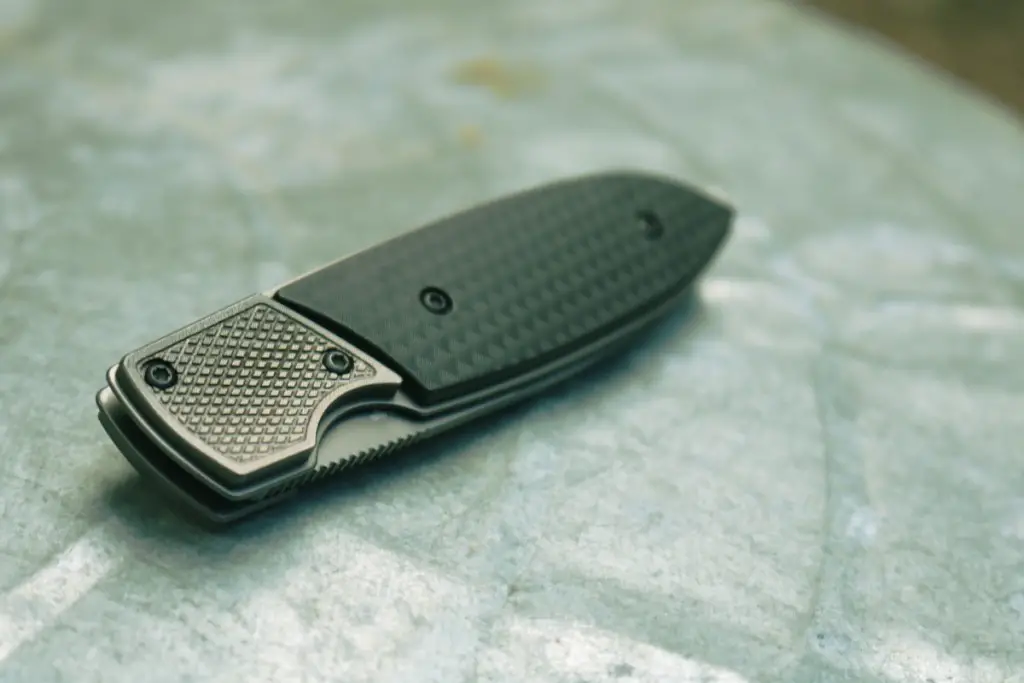 Final Thoughts
Overall, the Fulcrum 2 is a very durable and sturdy knife. Although it has its small problems, it is a solid choice for anyone not doing hardcore survival adventures with it as their primary knife. 

The Fulcrum 2 is made of great materials, the design is sleek and minimalistic, and the opening mechanism is pretty neat. It is a really great knife that won't let you down.

If you're intrigued by it, as I was, just take a leap of faith and buy the Fulcrum on Amazon by clicking here

. It really is an awesome knife.